This week, many blogger telling about how exited they are preparing everything for welcoming Christmas eve. I saw a lot of gorgeous and beautiful cookies and desert that the bloggers shared from their blog and seriously when I opened my inbox and check some of foodie blog post, they were make me drooling :P
Second happening topic that I read this week is about Food Blogger Cookie Swap. I knew it from read one of my foodie blogger, I think the cookie swap is something Fun to do, and little bit like an adventures thing because we could know other food bloggers that we never met before on our blog track and could enhance our food blogger friends :D or if we lucky we could send and get cookie from our food blogger Idol :D. lucky you are if you have joined and successfully made a new friend from it. Well I really want to could participated on this cool activity but looks like I have to keep my urge because my country not on the cookie swap listing yet. The admin said that for 2011 not all of the country could join because they try to make the shipping cost doesn't incriminate the member (reason accepted) :D
So If I'm joined Food Blogger Cookie Swap this year, maybe I would give my matches this Milo Bear cookies. This is one of my favorite cookies I ever made, not sweet, easy to make having simple ingredients and look at the shape, they were cute and look like my lovely little Panda doll Cicit.
This is my lovely Panda, Cicit :D I own it since I was first grade at elementary school till present







What you need:
Sift flour, corn flour, and milk powder.
Cream butter and milo at low speed for 3 minutes.
Add flour, corn flour and milk powder, mix at low speed for 1 minutes to form dough.
Divide dough into 10g each, put three chocolate chips into each piece of dough and roll into balls.
Insert Koko Krunch for the ears, chocolate rice for the eyes and chocolate chip for the nose.
Bake at 140˚c for approximately 20 minutes.
Cool the cookies and served.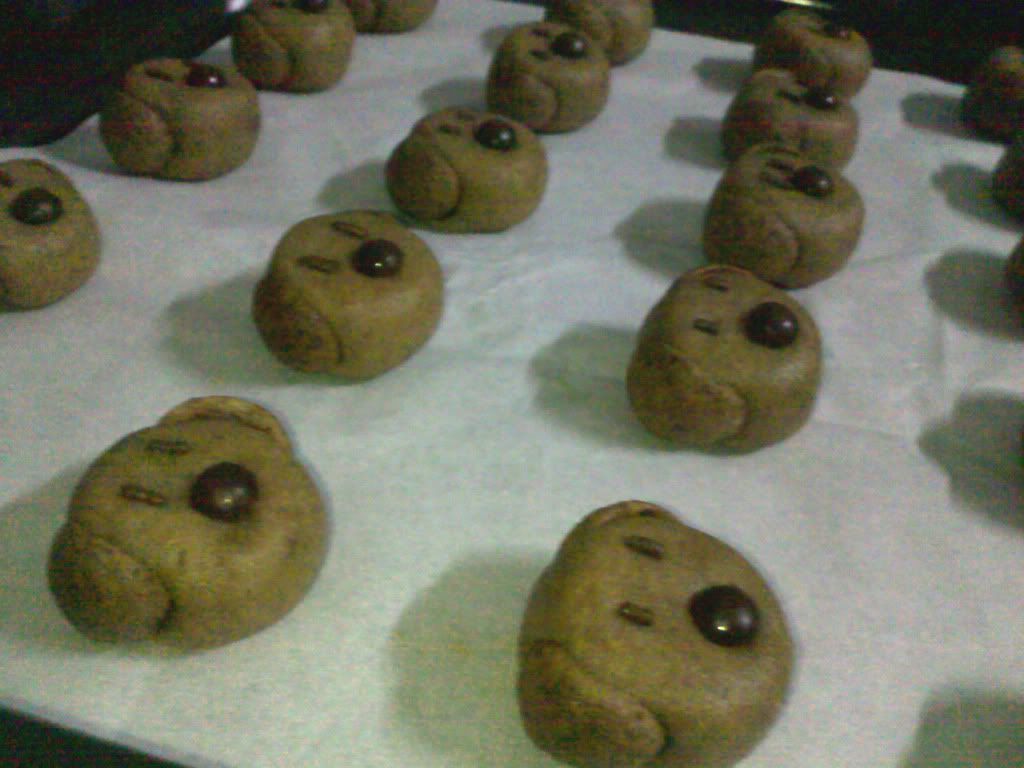 I found koko krunch with two color chocolate and white in grocery store, so next time, I will use the white koko krunch for the bears ears, think will make it more cute and colored.
Last but not least, for those of you who nor celebrate Christmas:
Happy having Busy time, Happy Baking, Happy
Shopping, Happy Holiday and Merry Christmas