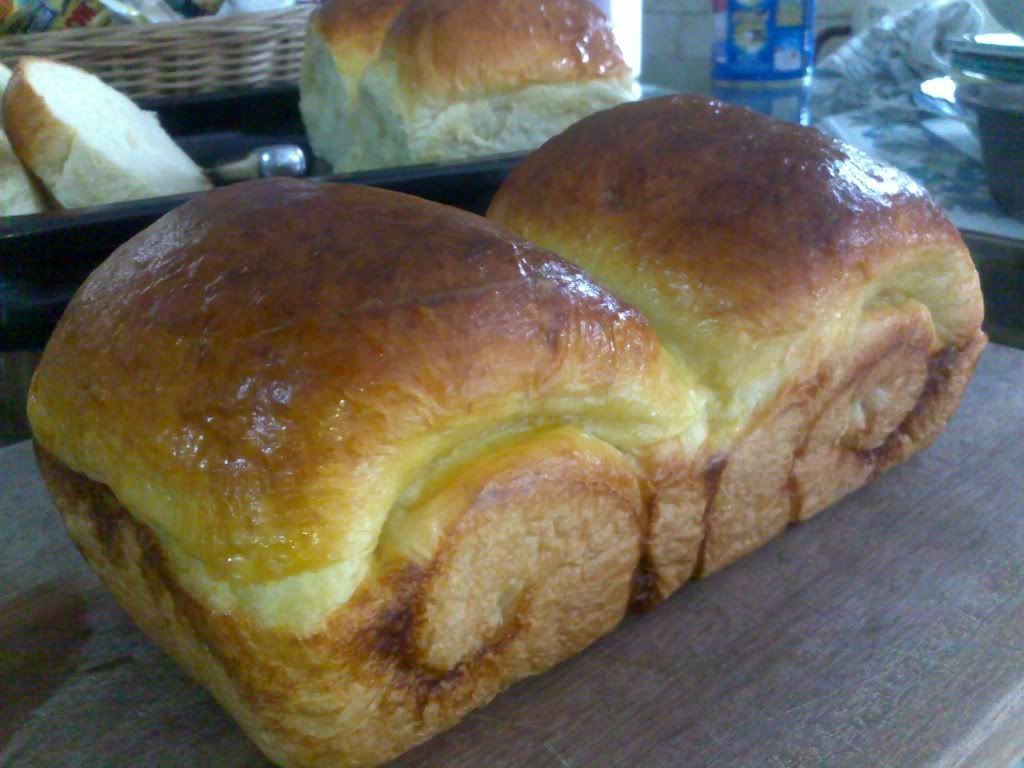 Some of you might be too lazy making bread because you have to dealing with the inconvenience of kneading, proofing, and shaping the dough in your busy time, so am I. But in my spare time, when I only need myself to relaxing, I would make bread. Bread is like a temple for me, I could find peace when I knead the dough, there's nothing that I'm thinking of other than make the dough become elastic, and for a while, I will forget all of problem around my life.
From thousands bread recipe I have tried, I could say this is the best bread recipe ever. This Japanese bread recipe can produce bread with super soft and fluffy texture with rich of milk flavor. There is a difference method to make Hokkaido milky toast than the basic bread. The key is to put water roux/tangzhong dough to the bread dough. The Water roux bring quite a lot of water content which can make the bread texture incredible soft and fluffy.
The water roux dough is extremely sticky, and it's a quite challenge for me which handle the bread dough by hand. You will not regret to make this recipe, because the result is comparable with time you need to spend to make it.

Hokkaido Milky Toast
Ingredients of Water Roux
(The amount is enough to make two loafs)
250ml water (could be replaced by milk, or 50/50 water and milk)
Method of making Water Roux
Mix flour in water well without any lumps. Cook over medium-low heat, stirring consistently with a wooden spoon, whisk or spatula to prevent burning and sticking while you cook along the way.
The mixture becomes thicker and thicker. Once you notice some "lines" appear in the mixture for every stir you make with the spoon. It's done. You get the water roux. (Some people might like to use a thermometer to check the temperature. After a few trials, I found this simple method works every time.) Remove from heat.
Transfer into a clean bowl. Cover with a cling wrap sticking onto the surface of Water roux to prevent from drying up. Let cool. Chill in fridge for several hours. (I chill it overnight.) Then the water roux is ready to be used. (Note: When you are ready to use the water roux, just measure out the amount you need and let it rest in room temperature for a while before adding into other ingredients. The water roux can be stored up to a few days as long as it doesn't turn grey. If so, you need to discard and cook some more.)
Makes two loafs (each loaf tin size: 20.5cmx10.5cmx9.5cm)
9g full cream milk powder
49g unsalted butter, melted
Method (To make one loaf)
Add wet ingredients (except butter) milk, cream, egg, water roux, mix well until there is no lump, then followed by the dry ingredients (salt, sugar, milk powder, bread flour, yeast) knead it, When all ingredients come together, pour in the melted butter, continue kneading until the dough is smooth and elastic. The time of kneading is about 30 minutes. Then let the dough complete the 1st round of proofing, about 40 minutes, best temperature for proofing is 28C, humidity 75%, until double in size.
Transfer the dough to a clean floured surface. Deflate and divide into 3 equal portions (see picture 1). Cover with cling wrap, let rest for 15 minutes at room temperature.
Roll out each portion of the dough with a rolling pin into an oval shape. Fold 1/3 from top edge to the middle and press. Then fold 1/3 from bottom to the middle and press. Turn seal downward. Roll flat and stretch to about 30cm in length. With seal upward, roll into a cylinder. With seal facing down, place in the loaf tins to have the 2nd round of proofing, until double in size. The best temperature for 2nd round proofing is 38C, humidity 85%.
Brush whisked egg on surface. Bake in a pre-heated 180C (356F) oven for 30 to 35 minutes, until turns brown. Remove from the oven and transfer onto a wire rack. Let cool completely.