Yesterday I got packed from my best friend who lives in Jakarta. She promised me to send second season of Big Bang Theory ( I know pals, this series now run in season 5, and I'm pretty late to follow this series, but better late than passing the gorgeous of Sheldon Cooper :D). First time I saw this series, seriously I don't get it what they said, everything what Sheldon and Leonard says they connect it with science. But thank to Penny, the only ordinary person on the gang, she's like a guide for gazers who give the sigh which the sentences that Sheldon and friends says need to be ignore or note :D. Moreover, those genius nerdy weirdos act with their social life are major "funnierd" (funny and weird haha…) don't you laugh out loud when u saw the 1st season of episode where Raj and Howard trying to woo Sheldon hot sister ;D? Well I really do!
What about the macarons? Say it was bonus from my lovely dearest best friend, to accompany me watching The Big Bang theory. Basically Macarons having darn sweet taste that makes me losing my urge to eat it, but the Macarons from Manon chocolatier & patisserie that my friend sent it to me aren't too sweet, it just precise, no wonder Manon macarons is happening in there. Thank a lot for my bestie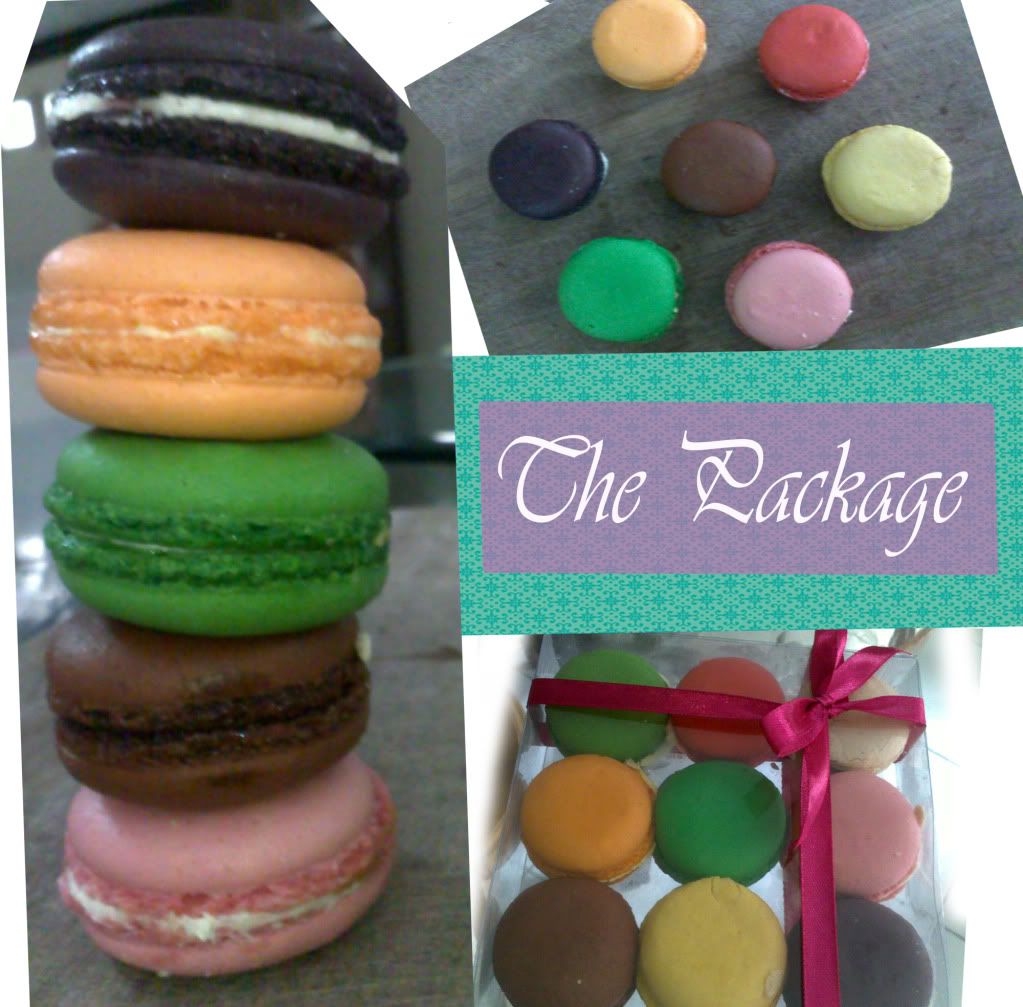 Exciting doesn't make me losing my control to eat all the macarons in one night, beside they are to pretty to eat! I will eat and chew them slowly and make another snack to company me watching Sheldon Cooper :P I was thinking to bake something easy and no need much time to make it, and I decided to make…
Japanese Matcha Biscotti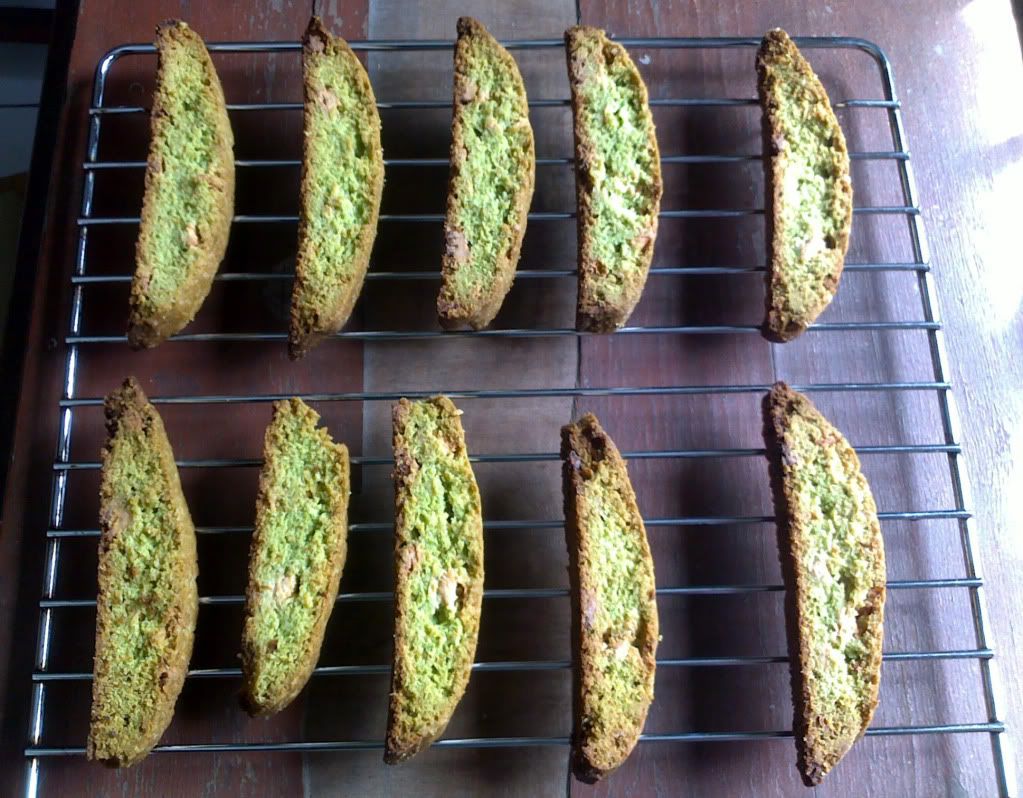 1/2 cup of butter, unsalted
2 large eggs, room temperature
1 vanilla bean, scraped and pods discarded – or use 1 tablespoon of vanilla extract.
1/4 cup of green tea powder, also known as Matcha
Preheat oven to 350F or 180C. Spray baking sheet with some oil/coat with butter. Sift, the flour, matcha powder, baking powder and salt together in a bowl and set aside.
Cream butter with sugar until it turns into a pale creamy consistency. Add eggs, one at a time and mix well.
I like adding my flavoring in the butter mixture, I feel that it's better incorporated that way. So, add your vanilla beans/extract in here and stir to perfume the butter mixture.
Now it's time to add the dry ingredients; I like to add the flour mixture and the chocolate chips alternately into the butter mixture so it gets incorporated well.
With your spatula, half the batter and shape it into logs on your baking sheet. Flatten it until it's about 1 inch thick and approximately 9-inches in length. You will have two logs from this one batch of batter.
Bake for 30 minutes in the oven. After that, cool the batter for 30 minutes before slicing with a sharp knife. Slice the biscotti logs into approximately 3/4 inch thick cookies and bake for 15 minutes minutes in the same oven temperature.
Let the biscotti cool completely before storing.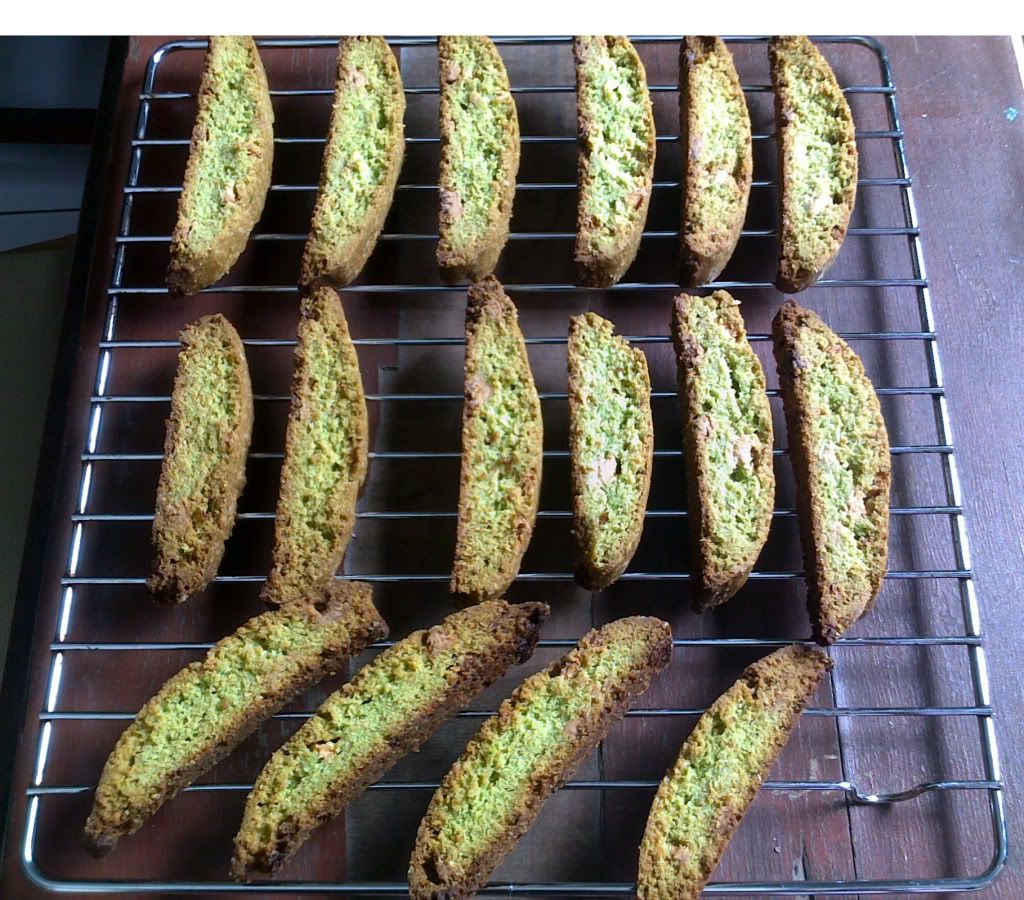 I love this recipe because the amount doesn't too much, the better is easy to shape in a log and the texture just right, crispy and not too tough. I substitute the Chocochip with white chocolate chunk and cut the matcha amount, I only use 1 ½ teaspoon. For next time I make it, I will cut little bit the sugar and add the matcha amount exactly like the recipe, so the color can be more bold