One day my dad asking me to bought him a bread recipe book, I just wonder, what for he wanted the book? I was assuming that he might ask me to make one of bread on that recipe book. After he get the book, he never stop asked me the ingredients to make the bread, like, what's the difference between high protein flour with the others flour, bread improver with yeast and so on.
My dad is a good cook he always could process any kind of not delicious raw food into delicious dish. But baking especially making bread is major different with daily cooking. There are many things that we have to prepare before baking, especially for an amateur with no natural talent on cook like me.Couple days after lots of question, he started to made the dough, everything goes alright, about 1 hour past busy with the dough, he came to me with the dough sticky in his hand, he said that he tired kneading the dough and it's not getting elastic at all.
Alright then, this is the sign he had hand in it to me, and the rest of my dad's work for the dough handled by me.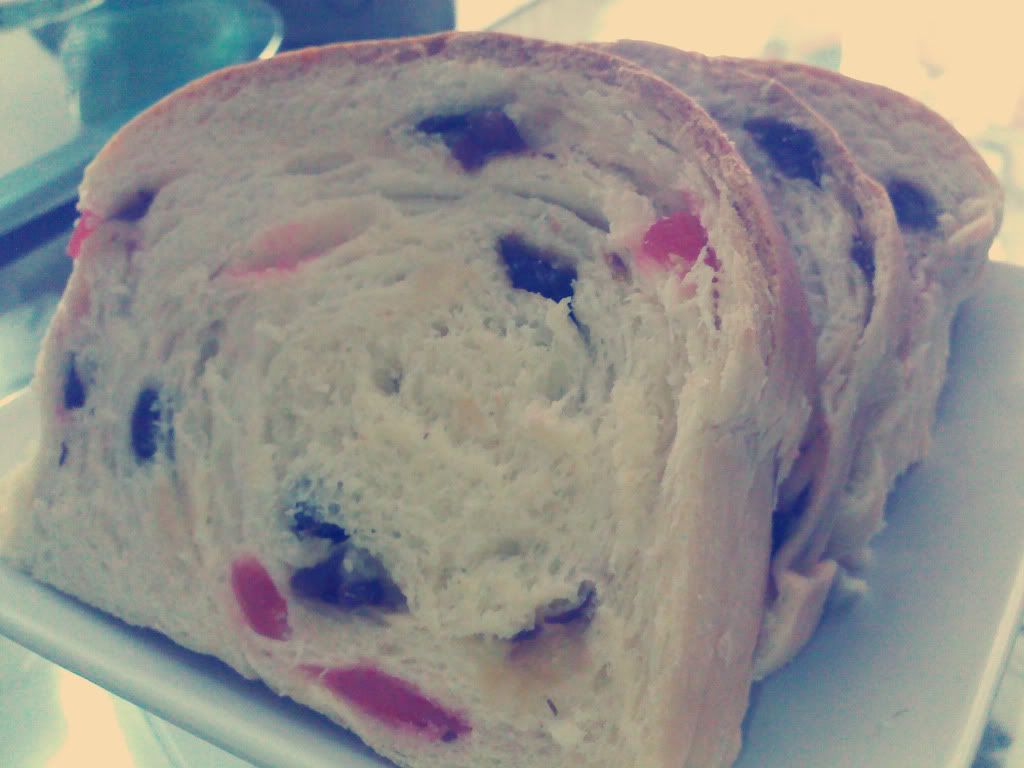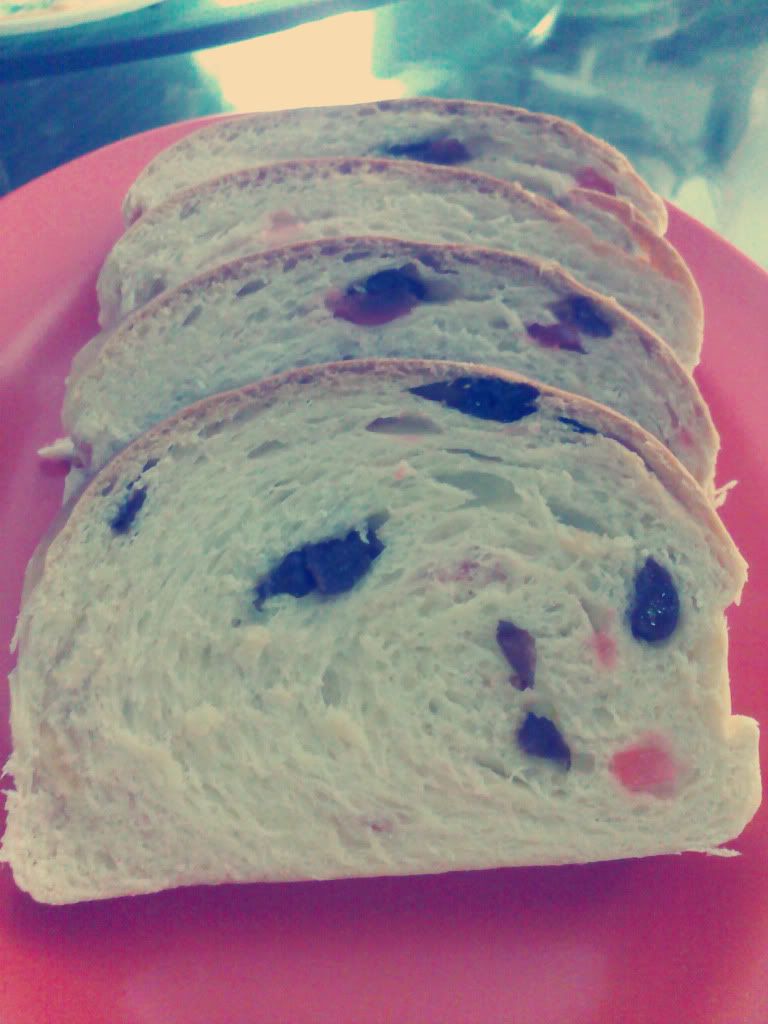 Not bad for amateur like my dad right? The bread is really soft, but the most I love is the sweet flavor produce from the liquid of chopped cherries which spreading evenly through the dough and it's sorely in every each bite!
Here they are the recipe, my dad decrease the measurement about threefold and it's make for one loaf pan, because it is too much if we use the original measurement.
Mixed fruit bread Recipe
Adapted from Roti Tawar Klasik & Modern Book's by Koko Hidayat
75g mixed fruit (raisin, green and red cherries)
Mix flour, sugar, instant dry yeast, bread improver, and milk powder evenly.
Make a small well in the middle of flour mixture, add egg, cold water, salt, margarine, and shortening into well hole, knead the dough until not sticky and elastic, add chopped mix fruit, mix evenly.
Make the dough into ball and Let stand the dough covering with towel for 40 minutes or until double in size.
Punch the dough to make out the air bubble from the dough, shape the dough into ball again little bit oval to covering loaf pan bottom, and let stand again the dough until double in size.
Bake in 180
°
C for 30 minutes.